Compiling macros.

Printed From: MSSpeech-Forum
Category: Windows™ Speech Recognition Forums for New and Disabled Users. Help, Files and FAQs.
Forum Name: Macros and Macro Development
Forum Discription: WSR Macros, Tools, Files, and new Macro requests
URL: http://www.msspeech-forum.com/forum_posts.asp?TID=316
Printed Date: 19/May/2019 at 12:29pm
Software Version: Web Wiz Forums 9.66 - http://www.webwizforums.com


Topic: Compiling macros.
---
Posted By: Stryyder
Subject: Compiling macros.
Date Posted: 02/Aug/2013 at 12:05pm
---
I had this silly idea that maybe I would somehow compile all of my macros into one big macro. The reason is so that I could have some sort of persistent variables to operate the system. Is this feasible? Is there a way to set some sort of system wide variables that "the computer" will use to operate? E.G. call users by name etc.



---
Replies:
---
Posted By: mmarkoe_admin
Date Posted: 04/Aug/2013 at 7:46pm
---
The WSRToolkit allows you to create nested macros (one after another, after another etc.) by inserting pauses. Here is a screen shot of the Macro Wizard in the WSRToolkit: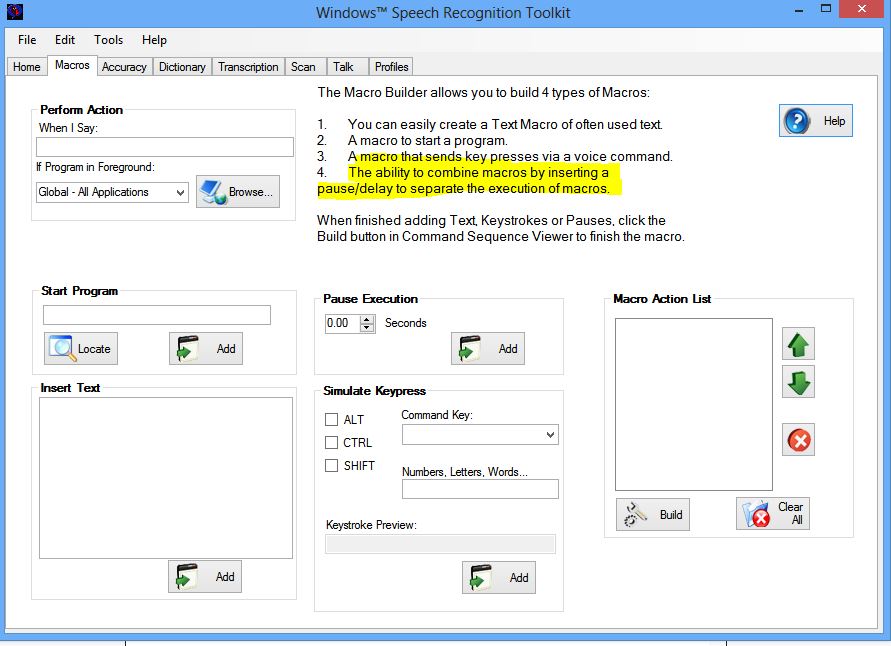 Marty Markoe
MyMSSpeech.com
---